Colour
Pale yellow
Tasting notes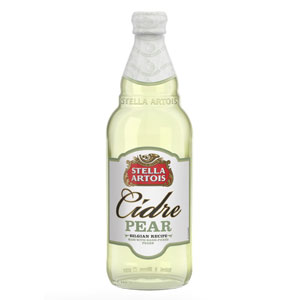 Stella Artois Pear Cidre has a moderate to strong pear flavour, characteristic of fresh pear and pear drops. Subtle hints of strawberry and fresh apple are present. Some very slight woody and floral violet notes can also be recognised.
The taste is clean and crisp, with a slight sweet after taste and clearly sour.
Stella Artois Cidre Pear has a medium bodied and slight mouth-coating touch. Some lingering astringency can also be perceived as well.
Alcohol
4.5%
Country
Belgium