Twist Up Your Taste With Cadbury Dairy Milk Twisted Buttons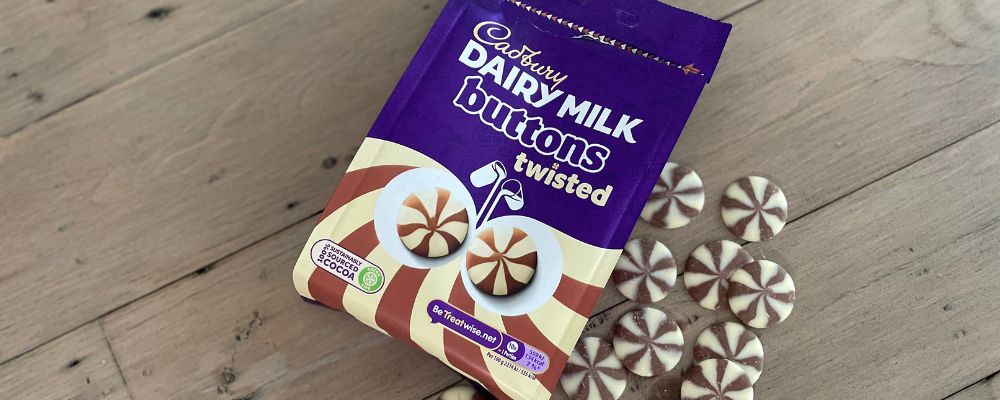 Get the best of both worlds with Cadbury Dairy Milk twisted buttons. If you love Cadbury's Dairy Milk, but equally love white chocolate, these buttons are the perfect mix for you. With a twist on the classic Cadbury buttons, these swirls of goodness combine milk and white chocolate presented in little circular disks of tastiness. This indulgent pouch of goodness will give you a reason to keep coming back for more.

If you are ever at your local convenience store spoilt for choice of what chocolate confectionery to get, that soon will be a thing of the past with this sweet treat which mixes two wonderful chocolatey tastes. The twisted buttons are incredibly rich and creamy, leaving you craving to grab more. What makes the twisted buttons so flavourful is the combination of the milk chocolate and the white chocolate creating a smooth melt in the mouth texture. The twisted buttons are very addictive so once you open a pack do not be surprised if you finish the whole bag in one sitting. The design of the twisted buttons is aesthetically pleasing on the eye combining a mixture of white and brown colour triangular shapes on a circular disk.

Cadbury twisted buttons is also a great alternative to mix up your baking game. You can add this product to many things such as cakes, brownies, cheesecakes & milkshakes bringing a new twist to your baking experience. Adding the twisted buttons into your baking ingredients could bring out a new rich flavour to complement the baked treat.

If you are looking to try something different to your normal chocolate confectionary, this will tick a lot of boxes. The Cadbury Dairy Milk twisted buttons is a perfect evening and weekend treat to satisfy your chocolatey cravings.

Ready to try Cadbury Dairy Milk Twisted Buttons? Visit your local Costcutter store with our store finder here.