Top Picks For Football Fans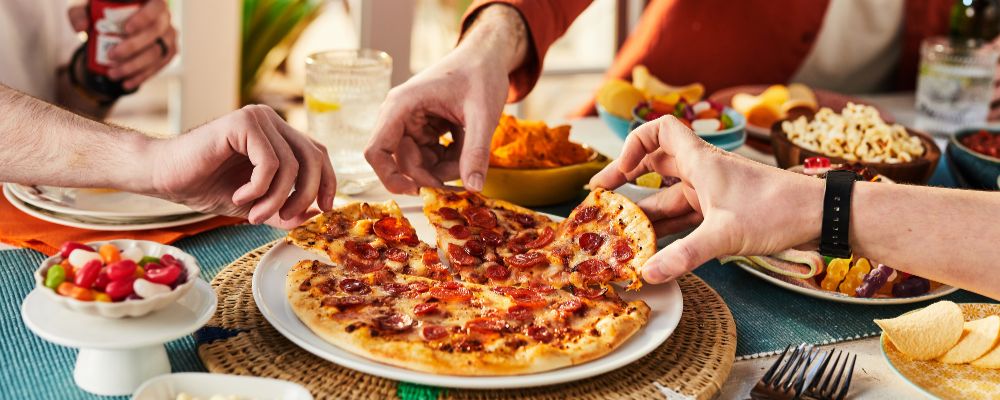 The football season should be full of delicious meals and snacks that are easy to make; the only stress we need is the tension from the football matches themselves, whether you're playing or not! Make sure you don't get hungry during a match by stocking up on the best food and drinks to enjoy before or after a sports game with friends & family. From stick-in-the-oven meals to simple recipe suggestions, below we tell you our top picks to be enjoyed this summer.

You name it, we've got it! So, pop down to your nearest Costcutter in time for the matches to begin!

1. Pizza
Put down those kitchen utensils and buy a quick & easy dinner instead, courtesy of Costcutter! What better way to enjoy the weekend than to chill out on the sofa sharing a pizza with friends after playing a friendly 5-a-side game? From Pizza Express to Co-op's Stonebaked range, we've got all the best brands.

Whether you are a fan of the classic margherita or prefer an array of toppings, Costcutter is stocked up on Pizza Express' iconic pizzas. Why not come down and grab a Sloppy Guiseppe or a La Reine? If you're more a stuffed crust kind of football fan, then choose between Chicago Town's pepperoni and loaded cheese, both with crusts filled with smooth tomato sauce! Don't forget to grab a bag of chips or wedges to complete the meal; your friends will thank you.

2. Snacks & Dips
Stock up on picky bits so you don't get hungry in between games. Grab your favourite sharing bags of crisps, or multipacks to distribute among friends and family! Costcutter have all the big brands available; from Walkers to Pringles, we've got it all! Which are you choosing: Sensations Thai Sweet Chilli or Sensations Roasted Chicken & Thyme? Or how about a can of original Pringles, or Sour Cream & Onion flavour? There's so many to choose from! One thing you can't forget when it comes to snacking is dips! We have all Co-op's best ones, including guacamole and flavoured humous.

Or do you have more of a sweet tooth? If so, choose from an array of your favourite chocolate bags, perfect to have with friends (if you're up for sharing). We're all stocked up ready to help you stock up! From bags of M&M peanuts to Galaxy minstrels… from Cadbury chocolate bars to McVitie's Flipz… from Fox's party rings to McVitie's cookies, we've got everything you're after.

3. Sharing Platters
If you're a chef in the kitchen and love to create food from scratch, why not whip up a few sharing platters? Choose from an array of recipes on Costcutter's recipe page to wow your friends & family this football season. Make your own Budweiser Caramelised Onion dip to partner with your favourite crisps, keeping the spirit of football alive with its beer base. Or use your air fryer to magic up some cheesy garlic bagel bites, or spicy cauliflower buffalo wings, which are ideal for adding to your buffet.

4. Alcoholic Drinks
When you're rooting for your team, make sure you always have a bottle of your favourite lager or cider on hand to celebrate a win (of course, if you're of legal age). Why not stock up with a Fosters or Carling large multipack? Two lagers perfect for quenching your nerves after a tense football game ends! Or grab a case of Inch's or Old Mout cider if fruity drinks are more your thing.

If you're not a can fan, why not experiment and make yourself a cocktail to sip on at your after-game party? Choose from our array of branded spirits in store and follow one of our cocktail recipes; we've got plenty to choose from!

5. Soft Drinks
If you'd rather opt for a soft drink to celebrate a win, pick up a couple of your favourite fizzy bottles. Whether you're on Coke's, Pepsi's, or Fanta's team, we have the brands everyone loves. As well as your fizzy favourites, buy a large bottle of Robinson's to water down for the football-mad kids in your family! And don't forget to grab those energy drinks to keep yourself energised during all the football games this season; grab a 4 pack of Lucozade and pass them out to your friends during half-time.

There's something for everyone at Costcutter! So don't waste any time, find your local store so you can stock up on all the essentials for the football games you're playing and watching this summer.

Please drink responsibly.