Veganuary 2022 is well and truly in full swing and now more than ever it's easy to try meat-free and dairy-free alternatives to the food we know and love. We've teamed up with Alpro this January to celebrate all things Veganuary! We've put together some great Alpro recipes below to help make you doing your bit just that little easier. Have a scroll below to find out how to make easy and simple swaps to incorporate Alpro into your everyday.
Some might argue that breakfast is the best meal of the day! Whether you agree or not breakfast is the first meal of the day and can really help fuel your full day ahead. Why not start the day right with a bowl of fibre packed oatmeal! This wintery breakfast of dreams is even tastier when made with Alpro Oat.
Prep: 5 minutes. Cook: 10 minutes. Serves: 4
Ingredients:
1L Alpro Oat Unsweetened
160g porridge oats (quick cooking)
250g blackberries
2 apples
4 tbsp pistachio nuts (optional)
Method:
Core and thinly slice the apples.
Pop in a pan along with the Alpro Oat Unsweetened and the porridge oats.
Bring to the boil then reduce to a simmer. Keep stirring for around three minutes until it's nice and thick and smooth.
Spoon into four breakfast bowls and top with the blackberries, pistachio nuts if you like them, and an extra splash of Alpro Oat Unsweetened. Ready in a flash and packed with oaty, fruity goodness!
Or maybe you want an on-the-go smoothie for the commute to work? We've got you! This one's delicious and the taste of mango just reminds you of Summer days with Alpro coconut.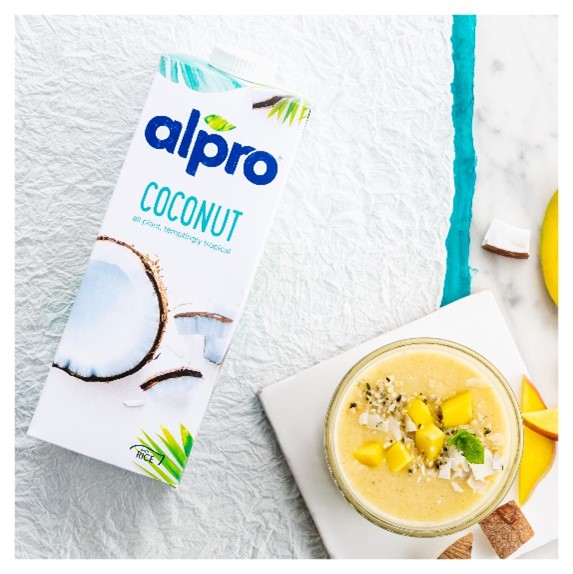 Ingredients
200ml Alpro Coconut drink
85g mango, chopped
60g banana, chopped
1.5g fresh mint
Preparation
Pop all that luscious fruit and mint into your blender
Add the Alpro Coconut Original drink
Whizz until smooth, creamy and golden
Pour into a chilled glass, garnish with an extra sprig of mint, sip slowly and enjoy that desert island feeling!
Dinner is sometimes a hard on when you're trying to make multiple mouths satisfied but a curry is certainly a firm family favourite. This Butternut & Aubergine Korma is a tasty veggie dish which is perfect for those mid-week meals, curries also make great meals to prepare in batch too! Alpro Coconut makes a great lighter alternative in this recipe.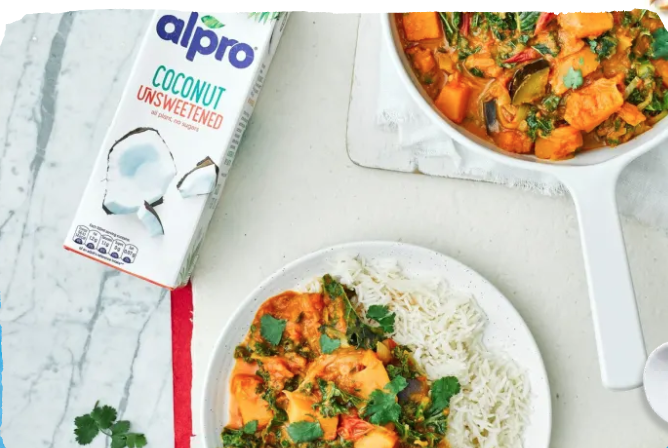 Prep: 20 minutes. Cook: 45 minutes. Serves: 4
Ingredients:
Coriander
Lime
Steamed Rice
Vegetable oil for frying
2 red onions, finely sliced
2 garlic cloves crushed
1 butternut, peeled and 1 cm diced (or 1 large sweet potato, peeled and diced)
1 large aubergines, 2 cm diced
300g cherry tomatoes, halved
2-3tbsp korma curry paste (dairy free versions available)
600ml Alpro Coconut Unsweetened drink
1 x 400g tin chopped tomatoes
1 vegetable stock cube
100g spinach
1 lime, juice
30g fresh coriander, roughly chopped
Method:
In a large deep sauté pan, heat the vegetable oil over a medium heat and add the onions. Fry for 5 minutes until starting to soften. Add the garlic, butternut squash and aubergine and gently fry for 5-8 minutes, stirring regularly. Add the cherry tomatoes and korma paste and mix everything together.
Pour in the Alpro Coconut Unsweetened, chopped tomatoes and crumble in the stock cube. Bring to a simmer and cook for 30-40 minutes until the vegetables are tender and sauce flavoursome. Add a little water if the sauce thickens and reduces too much.
During the last 10 minutes of cooking stir in the spinach. Squeeze in lime juice and add half the coriander. Season to taste and serve with rice and extra lime and the remaining coriander.
Finally, the classic dinner favourite of all ages.. Lasagne! Going plant based doesn't mean missing out on comforting and tasty food! This really is the perfect cosy night in dish. With added plant power!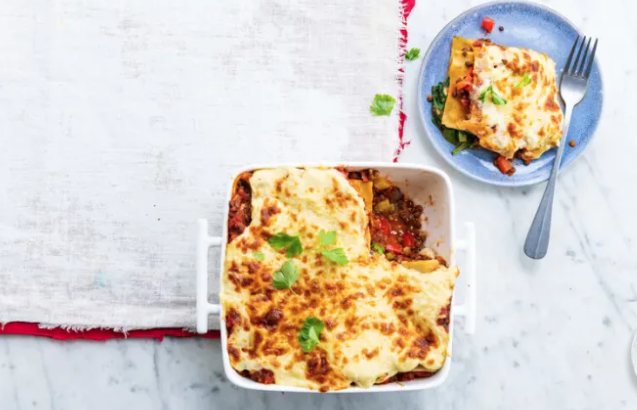 Prep: 15 minutes. Cook: 1 hour 10 minutes. Serves: 4
Ingredients:
2 tbsp vegetable or mild olive oil
1 large onion, finely chopped
1 red pepper, deseeded & finely sliced
1 clove garlic, peeled & finely chopped
3 tbsp ground garam masala/curry powder or 200g jar Tikka paste
500g carton tomato passata or 400g can chopped tomatoes
380g drained can/carton lentil (beans or chickpeas can be used instead)
1 vegetable stock cube
100g fresh spinach, washed
150g mushrooms, wiped or peeled & sliced
250g leeks, finely sliced into rings, washed
8 sheets dried lasagne
Sauce:
4 tbsp (60ml) vegetable or mild olive oil
40g plain flour
½ tsp ground nutmeg (optional)
300ml Alpro Almond or Oat drink
Seasoning
200ml Alpro Plain No Sugars (or Greek style) alternative to yogurt
100g cheddar or hard cheese, grated
Method:
Pre heat the oven to 180ºc fan, 190ºc conventional, gas 5
Heat the oil in a large saucepan and cook the onion & red pepper over a medium heat for 5-7 minutes, then add the garlic and curry powder/paste cooking for a further 30 seconds.
Add the tomatoes, lentils and stock cube and bring to the boil. Reduce the heat, cover with a lid and simmer on a medium heat for 5 minutes.
To make the Sauce; Pour the oil into a small saucepan and stir in the flour, place over a medium heat and add the Alpro drink a little at a time, beating well with each addition to prevent lumps. Bring to the boil , add the nutmeg (if using) & season to taste. Stir in half the grated cheese.
Leave to cool slightly then stir in the Alpro alternative to yogurt
To put the lasagne together; Lightly oil the base of an ovenproof 34 x 25cm dish and lay 4 sheets of dried lasagne across the base.
Spoon over half the spicy lentil mixture and top with the spinach and leeks
Cover with the other 4 sheets of lasagne and spoon over the remaining spicy lentil mixture, top with the mushrooms and pour the cheese sauce evenly over the top
Sprinkle with remaining cheese and bake in the oven 1 hour. If the top becomes too brown, cover with baking parchment. Delicious served with a fresh salad or garlic bread
There's never better time to give going vegan a go! Take part in Veganuary and give these great Alpro recipes a go. Let's all do our bit for the planet 👌
Don't forget to check out our Instagram for more tasty recipe inspiration or our store finder to visit your nearest Costcutter store.